[dr-image]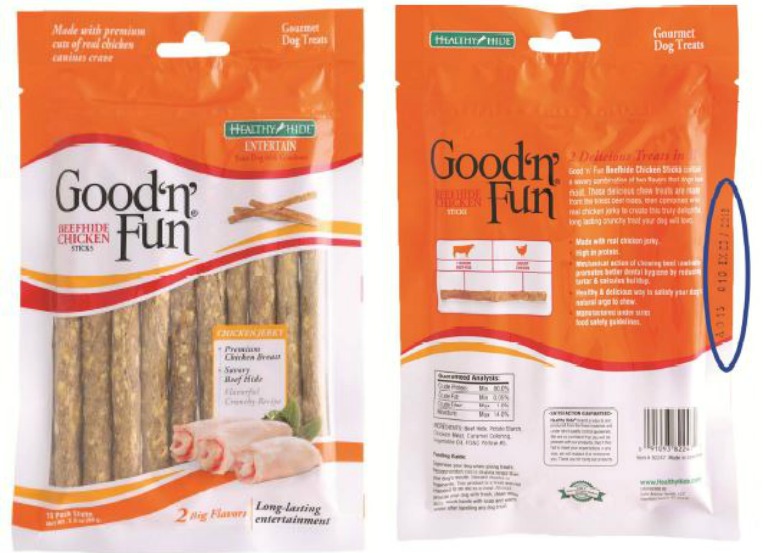 Good 'n' Fun recalls Beefhide Chicken Sticks
[dr-facebook-counter]
Company/Brand:
Salix Animal Health, LLC – Good 'n' Fun Beefhide Chicken Sticks
Good 'n' Fun Beefhide Chicken Sticks Overview:
The potential for contamination was noted after routine testing by the Georgia Department of Agriculture revealed the presence of Salmonella in one 2.8 ounce package of "Good 'n' Fun – Beefhide Chicken Sticks" labeled with the recalled code.
No other product is affected at this time. Customers should look at the lot code and expiration date on the product package to determine if it is subject to the voluntary recall. Customers who have purchased the product subject to this recall are urged to dispose of the product or return it for full refund.
Brand's Statement
We take our responsibility to pets and their owners seriously and as a result we are investigating the cause of this problem so that we can prevent it from occurring in the future. – Salix Animal Health LLC Representative
Salix Animal Health, is also working with retailers to ensure that the affected product is no longer sold and removed from inventory.
The recalled product is packaged in a 2.8 ounce bag stamped on the back side with lot # AO15010 and with an expiration date of 03/2018. The UPC code is 0 91093 82247 1.
More on the Good 'n' Fun Recall:
[object]
[/object]
Where Are Good 'n' Fun Beefhide Chicken Sticks Sold:
The recalled "Good 'n' Fun – Beefhide Chicken Sticks" was distributed nationwide by Salix Animal Health to Dollar General and Dollar Tree retail stores.
What To Do If You Purchased This Product:
If you have these products, please contact Salix Animal Health's consumer affairs team at 1-800-338-4896, Monday through Friday between the hours of 8:30 AM – 5:00 PM Eastern Standard Time for a refund.
Customers with questions may call the consumer affairs team at the number listed above.